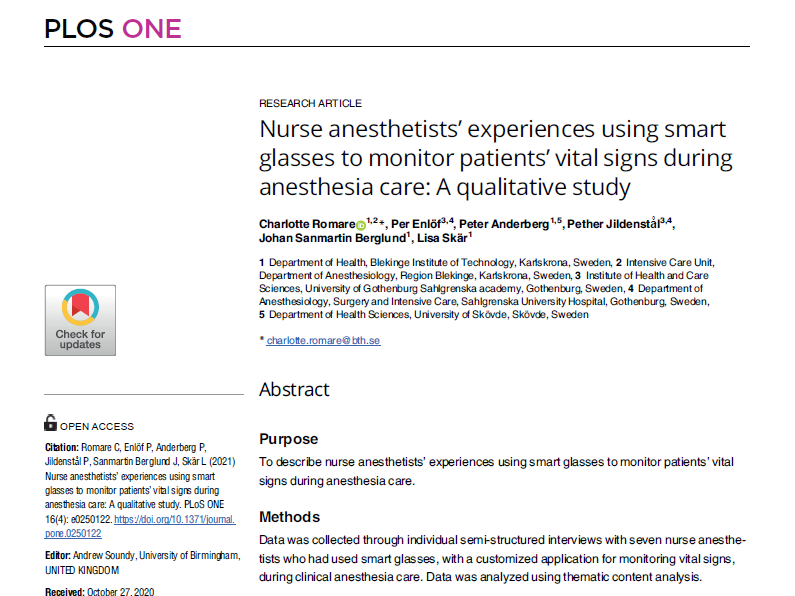 Nurse anesthetists' experiences using smart glasses to monitor patients' vital signs during anesthesia care: A qualitative study
Abstract
Purpose: To describe nurse anesthetists' experiences using smart glasses to monitor patients' vital
signs during anesthesia care.
Methods: Data was collected through individual semi-structured interviews with seven nurse anesthetists
who had used smart glasses, with a customized application for monitoring vital signs,
during clinical anesthesia care. Data was analyzed using thematic content analysis.
Results: An overarching theme became evident during analysis; Facing and embracing responsibility.
Being a nurse anesthetist entails a great responsibility, and the participants demonstrated
that they shouldered this responsibility with pride. The theme was divided in two subthemes.
The first of these, A new way of working, comprised the categories Adoption and
Utility. This involved incorporating smart glasses into existing routines in order to provide
safe anesthesia care. The second sub-theme, Encountering side effects, consisted of the
categories Obstacles and Personal affect. This sub-theme concerned the possibility to use
smart glasses as intended, as well as the affect on nurse anesthetists as users.
Conclusion: Smart glasses improved access to vital signs and enabled continuous monitoring regardless
of location. Continued development and improvement, both in terms of the application software
and the hardware, are necessary for smart glasses to meet nurse anesthetists' needs
in clinical practice.
Reference
Romare, C., Enlöf, P., Anderberg, P., Jildenstål, P., Sanmartin Berglund, J., & Skär, L. (2021). Nurse anesthetists' experiences using smart glasses to monitor patients' vital signs during anesthesia care: A qualitative study. PLOS ONE, 16(4), e0250122. https://doi.org/10.1371/journal.pone.0250122
Link
https://doi.org/10.1371/journal.pone.0250122