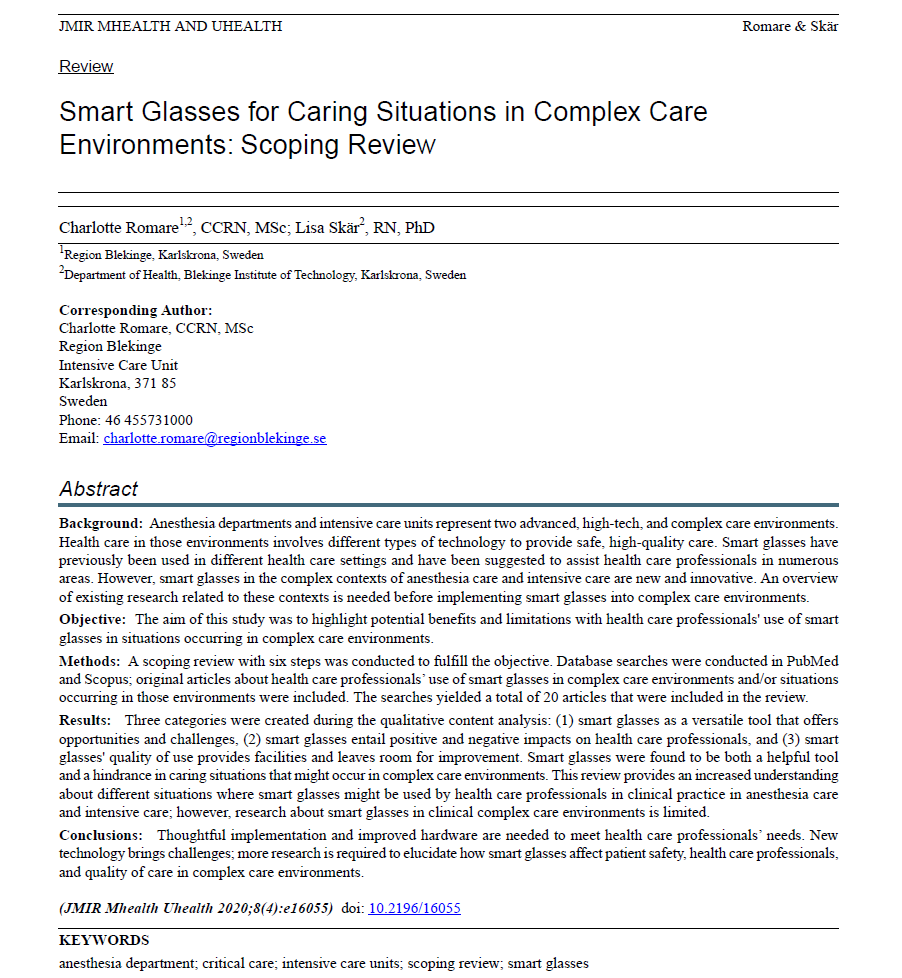 Smart Glasses for Caring Situations in Complex Care Environments: Scoping Review
Abstract
Background: Anesthesia departments and intensive care units represent two advanced, high-tech, and complex care environments. Health care in those environments involves different types of technology to provide safe, high-quality care. Smart glasses have previously been used in different health care settings and have been suggested to assist health care professionals in numerous areas. However, smart glasses in the complex contexts of anesthesia care and intensive care are new and innovative. An overview of existing research related to these contexts is needed before implementing smart glasses into complex care environments.
Objective: The aim of this study was to highlight potential benefits and limitations with health care professionals' use of smart glasses in situations occurring in complex care environments.
Methods: A scoping review with six steps was conducted to fulfill the objective. Database searches were conducted in PubMed and Scopus; original articles about health care professionals' use of smart glasses in complex care environments and/or situations occurring in those environments were included. The searches yielded a total of 20 articles that were included in the review.
Results: Three categories were created during the qualitative content analysis: (1) smart glasses as a versatile tool that offers opportunities and challenges, (2) smart glasses entail positive and negative impacts on health care professionals, and (3) smart glasses' quality of use provides facilities and leaves room for improvement. Smart glasses were found to be both a helpful tool and a hindrance in caring situations that might occur in complex care environments. This review provides an increased understanding about different situations where smart glasses might be used by health care professionals in clinical practice in anesthesia care and intensive care; however, research about smart glasses in clinical complex care environments is limited.
Keywords
Anesthesia department; critical care; intensive care units; scoping review; smart glasses
Reference
Romare, C., & Skär, L. (2020). Smart Glasses for Caring Situations in Complex Care Environments: Scoping Review. JMIR MHealth and UHealth, 8(4), e16055. https://doi.org/10.2196/16055
Link
https://doi.org/10.2196/16055.