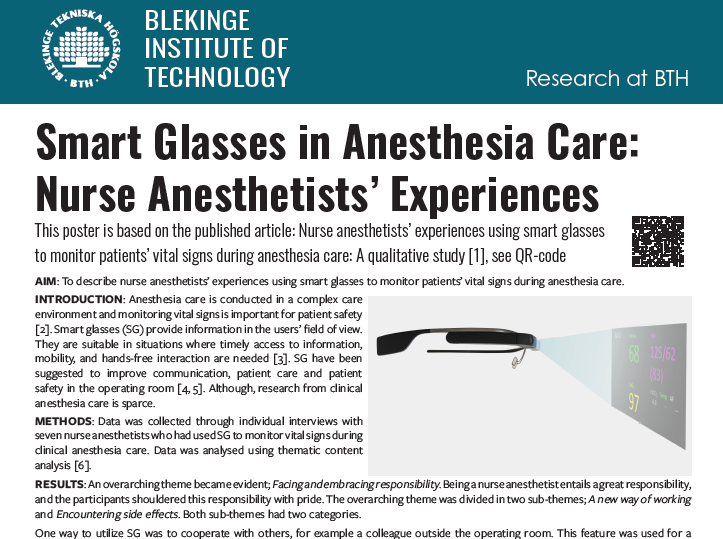 Smart Glasses in Anesthesia Care: Nurse Anesthetists' Experiences
Abstract
Purpose: Smart glasses are a kind of wearable technology that gives users sustained, hands-free access to data and can transmit and receive information wirelessly. Earlier studies have suggested that smart glasses have the potential to improve patient safety in anesthesia care. Research regarding health care professionals' views of the potential use of smart glasses in anesthesia care is limited. The purpose of this study was to describe anesthesia health care professionals' views of smart glasses before clinical use. Design: A qualitative descriptive study.
Methods: Data were collected from focus group interviews and analyzed using thematic content analysis. Findings: Three categories of participants' views of smart glasses were created during the analysis: views of integrating smart glasses in clinical setting; views of customized functionality of smart glasses; and views of being a user of smart glasses. One theme, striving for situational control, was identified in the analysis.
Conclusions: Smart glasses were seen as a tool that can impact and improve access to patient-related information, and aid health care professionals in their struggle to gain situational control during anes- thesia care. These are factors related to increased patient safety.
Keywords
Anesthesia; smart glasses; monitoring, physiological; patient safety; qualitative research
Reference
Romare, C., & Skär, L. (2022, september 14). Poster: Smart Glasses in Anesthesia Care: Nurse Anesthetists' Experiences. NOKIAS (NOR­DISK KON­GRESS FOR AN­ES­TE­SI OCH IN­TEN­SIVSYK­PLEI­E­RE), Trondheim.
Link
DOI:https://doi.org/10.1016/j.jopan.2020.06.019